Crock-Pot "Grilled" Provolone and Tomato Sandwich
This month the Crazy Cooking Challenge had a theme of "grilled cheese" which is quite a challenge when you are using a crock-pot.  Hard to grill in there, I tried (kidding!).  But I found a really fun recipe on Jersey Girl Cooks for a Grilled Balsamic Portobello & Provolone and I decided with a little tweak I could make this in my crock-pot.  Since not everyone in my family is a mushroom fan I made this with tomatoes instead of portabello mushrooms but still used a balsamic marinade for the tomatoes. If you like a good provolone and nice thick tomato slices (and boy I wish I could have done this in the summer with some fresh garden tomatoes) give this one a try.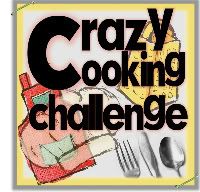 Rating

Servings

1

Sandwich

Prep Time

10

minutes

Cook Time

300

minutes
Rating

Servings

1

Sandwich

Prep Time

10

minutes

Cook Time

300

minutes
Toss tomato slices with 1 tablespoon of olive oil, salt and vinegar in a bowl.

On a piece of foil (dull side up) lay two slices of bread.

Drizzle a little of remaining olive oil on bread.

Rub garlic vigorously on olive oil drizzled bread, being careful not to rip bread.

Sprinkle with a little oregano.

Add two slices of tomato and two slices of cheese on to one piece of bread and top with other slice (olive oil side in).

Wrap tightly in foil.

Repeat for other 3 sandwiches.

Place foil wrapped sandwiches in crock-pot, cover and cook on low for about 6 hours.

You can unwrap foil to check if sandwiches are done.

Bread will be slightly moist and cheese should be melted.

Slice each sandwich in half if desired and serve.
Now that you've checked out my recipe, please go and check out some of the yummy Grilled Cheese recipes linked up below. By clicking on the picture of my recipe in the blog linky below, you will be helping this recipe to get featured by Moms Crazy Cooking so please do that as well! If you're a blogger and you want to join in the fun, check out
Moms Crazy Cooking
for yourself!