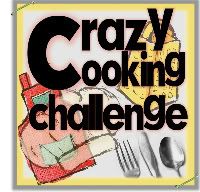 This month I decided to take part in the
Crazy Cooking Challenge
where bloggers select a themed recipe from another blog, try it and share it with you and each other!  This month's theme was Spaghetti! Now I love pasta and red sauce but I have always just made my own with no real "recipe" on the stove-top.  This is actually my first pasta sauce in a crock-pot so I was happy to find one prepared that way so I didn't have to think too much.  I found a great recipe from
Cravings of a Lunatic
that I just had to try.  The name alone,
Lunatic's Getting Sauced Spaghetti Sauce
intrigued me.  I made a few tweaks to it but the results were still divine.  I don't think my family knew what hit them!
Crock-Pot Getting Sauced Spaghetti Sauce – Crazy Cooking Challenge
Ingredients
2 28 Ounce Cans Whole Peeled Tomatoes
1 - 1 1/2 Pounds Lean Ground Beef
1 Pound Hot Italian Sausage Links
2 Tablespoons Sugar
2 Tablespoons Oregano
2 Tablespoons Basil
2 Tablespoons Onion Powder
2 Tablespoons Garlic Powder
3 to 4 Cloves Fresh Garlic, Minced or Pressed*
2 6 Ounce Cans Tomato Paste
4 Bay Leaves
Instructions
Brown ground beef and sausage separately on top of stove.
Drain grease.
Cut sausage into 1 " pieces.
Place meat at bottom of crock-pot.
Pour canned tomatoes over. You may blend them first so they are less chunky but I left them as is.
Add sugar and stir.
Add spices. You can vary the spices listed as desired.
Add fresh garlic.
Add beef stock and stir well.
Cook on low for 2 hours.
Add one can of tomato paste and stir.
Cook on low for another 2-3 hours, making sure to keep an eye on the sauce so it doesn't stick to sides.
Add the second can of tomato paste right before sauce is done.
Stir well.
In last half an hour prepare spaghetti noodles (or other pasta) on top of the stove.
Remove bay leaves from sauce before serving.
Serve sauce over noodles and enjoy!
Notes
*I don't own a garlic press (gasp!) so I minced my garlic. The original recipe called for pressing it. You should check the sauce about every hour in the last 2 hours of cooking.
http://crockpotladies.com/crockpot-sauced-spaghetti-sauce-crazy-cooking-challenge/
Now that I have your attention, check out the rest of the great recipes for this month's challenge!