If you just stopped by from A Grande Life, welcome to the next stop on the St. Patrick's Day Blog Carnival!  This is a Crock-Pot Irish Soda Bread recipe adapted from one I found on Heidi's Recipes (not our Heidi!). I wanted to make something in the crock-pot and this is actually my first attempt at bread in the slow cooker!   Usually I cheat and buy it at the store but from what I've read traditional Irish Soda Bread wasn't made with raisins or caraway seeds and it also was typically made with unbleached flour making it more "brown" in appearance.  I've been told it was also not made with butter but I can't live without my little bit of butter. I actually really like it with raisins but wanted to go for something close to "authentic".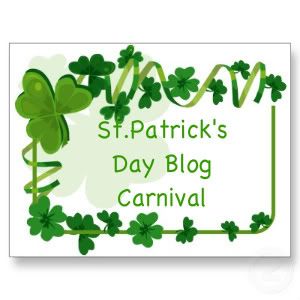 This recipe got two thumbs up from not only my kids but my 5 year old nephew who was visiting.  I had to fight them for a piece to try it myself! Serve it alone, with butter or with butter and jam (we used raspberry!).  Grab the recipe below and feel free to add it to your recipe box by clicking on that little red button.  Then stop by our friend Heather's blog Family Friendly Frugality for a Fun Shamrock Shirt How-To!
Crock-Pot Irish Soda Bread
Ingredients
2 1/2 Cups All-Purpose White Flour
3 Tablespoons Butter, Softened
1 Teaspoon Baking Powder
1 Teaspoon Baking Soda
1/2 Teaspoon Salt
2 Tablespoons Sugar
3/4 Cups Buttermilk
Crisco
Pan to Fit Inside Crock-Pot (if desired)
Instructions
Whisk flour, sugar, baking powder, salt and baking soda.
Mix in butter with a pastry blender or your hand held mixer until dough is crumbly.
Add in buttermilk, slowly about 1/4 cup at a time, just until dough moves towards center of your bowl. You might not need all of it.
Turn dough onto lightly floured surface and knead by hand for about one minute, until smooth.
Shape dough into a round loaf about 6-8 inches in diameter.
Place loaf into bottom of greased crock-pot. You can also place into a pan first and put inside crock-pot. (see notes)
Cut an X about a half-inch deep across top of loaf.
Cook on high for about 2 hours.
Bread is ready when it's golden brown.
Serve with butter and jam if desired.
Notes
I made this recipe in a 6.5 quart oval crock-pot.
I greased my crock-pot with Crisco and put the loaf right in. It took about 2 hours and 10 minutes to get it golden brown. You can always take it out and slice the end off if you're not sure it's done. Just put the cover right back on to keep the heat inside.
If you choose to put the loaf in a pan, make sure you check that the pan will fit in the crock-pot first and grease your pan lightly. You may need to adjust cooking times slightly.
http://crockpotladies.com/crockpot-irish-soda-bread/
Linked up at these great parties: